TIPS FOR DRIVING SAFELY DURING FALL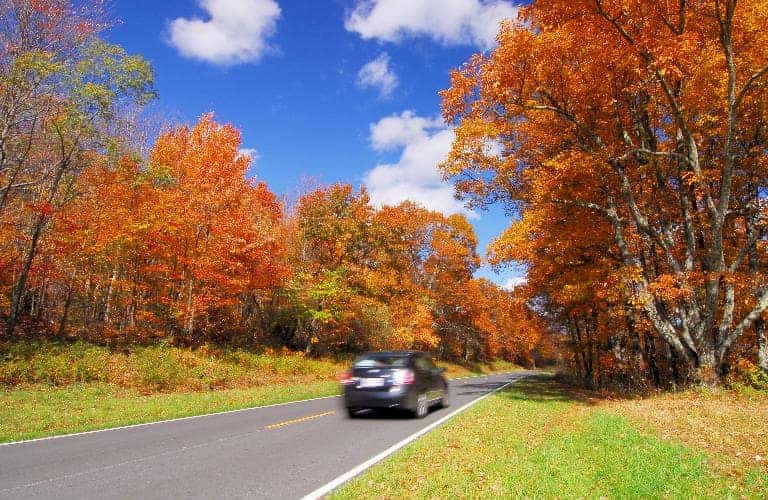 The air has a crisp feeling to it these days, almost like a cold slap in the face some mornings. The leaves are turning from green to bright red, orange, and yellow. Yes, fall has arrived, and while it is a fun season for football and Halloween, not to mention checking out the magnificent fall foliage, it can provide some unique hazards for drivers and vehicles. Commutes are not quite as cut and dry as they are during the summer months, so it is important to stay safe. Read ahead for some of our tips for driving safely during fall.
How to stay safe on the roads during autumn
Before you head out into the new, colder season, be sure your vehicle is in good enough shape to handle the different conditions. Make sure you have a fresh batch of oil and that everything under the hood is in working order. Replace your windshield wiper blades if you haven't done so yet this year, as you will likely have to deal with more rainy days (and snowy ones once winter arrives). Keep an eye on your tires and make sure their pressure is at the correct level. Fill them up if you need to, which may have to happen more frequently since the changes in the air outside can result in changes in the air inside your tires.
Follow these tips for safe fall driving:
Watch out for wildlife, especially deer, since it is mating season for many animals.
Be careful when driving through fallen leaves. They can be slick and can also obscure important traffic lines painted on the road.
Watch out for fog, and do not use your brights if you encounter any, as that will just cause more intense light to be reflected off the ground cloud and block your vision.
Scrape any ice off your windshield in the morning before pulling out of your driveway.
Remember that the sun sets earlier now, so glare could be an issue on your commute home when it was not before, so wear your sunglasses and be prepared.
We think following these tips can help keep you safe on the roads this fall. Drive safely, everyone!